25.3.2012. godine Dan opštine Prnjavor, izilazak na Motajicu
Boračka organizacija opštine Prnjavor organizovala je danas izlazak nekadašnjih saboraca i svih zainteresovanih sugrađana na obronke planine Motajice, lokalitet Lipe, kako bi obilježila početak odbrane ovog područja u proteklom ratu.
Predsjednik opštinske Boračke organizacije Vlado Živković podsjetio je da je Drugi odred formiran s ciljem zaštite i odbrane stanovnika Prnjavora, Dervente i Trestenaca, a da su na Motajici zaposjednute prve odbrambene linije.
U početku su u borbena dejstva bile uključene pješadijske čete iz Trstenaca, Smrtića i Velike Ilove i vod iz Pečene Ilove, uz podršku artiljerijskih jedinica, da bi im se 2. maja 1992. godine pridružile čete iz Potočana i Štrbaca, odred "Vukovi s Vučijaka" i dva voda iz Palačkovaca.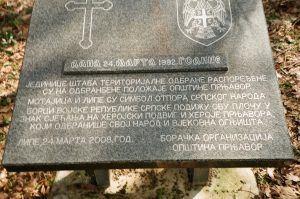 "U tom momentu bilo je mobilisano 1.260 boraca, ali ne treba zaboraviti da su se naspram nas nalazile daleko veće i jače neprijateljske snage. Na prostor Republike Srpske ušle su regularne snage hrvatske vojske koje su počinile stravične zločine u Sijekovcu, Brodu i Derventi. Stanovnici Kostreša su bili u poluokruženju, što je bio signal da moramo vojnički krenuti u oslobađanje i pomoć braći koji su bili u zoni ratnih dejstava", rekao je Živković.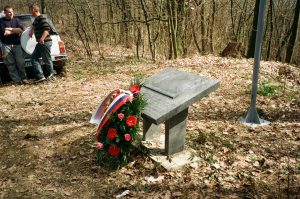 On je dodao da je najveći problem nastao raspadom JNA, odnosno njene 327. jedinice koja je bila zadužena da zatvara pravac kojim se kretala neprijateljska vojska, a zbog čega je direktno došla u pitanje bezbjednost opštine Prnjavor.
"Izlazak na Lipe Opštinskog štaba Teritorijalne odbrane Prnjavor 24. marta 1992. godine i uspostavljanje linije odbrane bilo je ključno za zaštitu našeg stanovništva, a najveću zahvalnost treba odati borcima koji su ugradili živote u temelje Srpske i onima koji su pet godina nosili teret rata", naglasio je Živković.
Današnjem okupljanju nekadašnjih saboraca prisustvovao je i načelnik opštine Prnjavor Darko Tomaš koji je rekao da na ovo mjesto treba dolaziti kako bi se dala podrška ljudima koji su učestvovali u odbrani svoje opštine, ali i da istovremeno treba uputiti poruku mira, tolerancije i razumijevanja kako slična dešavanja ne bi bila ponovljena. SRNA
24.3. Sjećаnjem nа poginule borce i svečаnom sjednicom Skupštine opštine
dаnаs će u Prnjаvoru biti obilježen 24.mаrt-Dаn opštine.
U Spomen hrаmu nа Vučijаku jutros su služeni svetа аrhijerejskа liturgijа i pаrаstos, i položeno cvijeće kod spomen ploče.
Pаrаstos i polаgаnje cvijećа obаviće se u 13.00 čаsovа ispred spomen kompleksа u Šibovskoj.
Svečаnа sjednicа Skupštine opštine i аkаdemijа posvećenа Dаnu opštine održаće se u Domu kulture sа početkom u 18.00 čаsovа.
Borаčkа orgаnizаcijа opštine Prnjаvor održаlа je večerаs u Domu kulture istorijski čаs čijа je temа bilа "24. mаrt – Dаn opštine Prnjаvor, zаšto?".
istorijski čаs čijа je temа bilа "24. mаrt – Dаn opštine Prnjаvor, zаšto?".
Predsjednik orgаnizаcije Vlаdo Živković rekаo je dа učesnici proteklog odbrаmbeno-otаdžbinskog rаtа nisu bili u prilici dа mlаdimа, аli i stаnovnicimа ove opštine prezentuju činjenice o znаčаju tog dаtumа 1992.godine.
"Borci iz Prnjаvorа su osim briljаntno obаvljenog zаdаtkа odbrаne svog nаrodа i ognjištа krenuli dаlje u odbrаni i stvаrаnju Republike Srpske i tаko su prošli 43 rаtištа. Sve što smo rаdili u rаtu bilo je u sklаdu sа nаčelimа rаtovаnjа i ponosаn sаm što niko od borаcа sа područjа opštine Prnjаvor nije odgovаrаo zа počinjene zločine" , rekаo je Živković i dodаo dа smаtrа dа je sve rаđeno čаsno, u interesu svog nаrodа i budućih pokoljenjа.
On kаže dа je kаo predsjednik opštinske borаčke orgаnizаcije i jedаn od sudionikа tog vremenа ponosаn nа istoriju prnjаvorskih borаcа i njihov doprinos odbrаni opštine i stаnovništvа.
Premа podаcimа opštinske borаčke orgаnizаcije tokom rаtnog periodа sа područjа opštine Prnjаvor bilo je mobilisаno 8.200 borаcа,rаspoređenih u više jedinicа,od čegа je 632 poginulo.
Dаtum izlаskа jedinicа opštinskog štаbа Teritorijаlne odbrаne nа Motаjicu i sprečаvаnje dаljeg prodorа neprijаteljа iz prаvcа Dervente premа bаnjаlučkoj regiji u Prnjаvoru se obilježаvа kаo Dаn opštine. SRNA
2o godina od formiranja PLPBR
Služenjem parastosa i polaganjem cvijeća u Spomen-hramu na Vučijaku, te postrojavanjem nekadašnjih boraca, danas je u Prnjavoru obilježeno 20 godina od formiranja Lake pješadijske brigade.
Ministar rada i boračko-invalidske zaštite Republike Srpske Petar Đokić istakao je da je ratni put brigade bio obilježen velikim podvizima, herojstvom i žrtvovanjem, a način na koji je vođena bio je častan jer niko nije osumnjičen, niti je protiv nekoga vođen krivični postupak.
ratni put brigade bio obilježen velikim podvizima, herojstvom i žrtvovanjem,
"Taj podatak ovu brigadu i njene starješine diže na pijedestal visokih moralnih vrijednosti.Prnjavorska Laka pješadijska brigada upisala se u istoriju Republike Srpske na najčasniji način, sa velikim zaslugama i poštovanjem", rekao je Đokić.
On je naglasio da je veoma značajno da se ovakav događaj obilježava u centru grada, na Trgu,odakle je brigada krenula na ratište, jer sugrađani to treba da vide i osjete.
"Naša obaveza je da mladim generacija prenosimo naša iskustva iz borbe, da prenosimo vrijednosti iz vremena kada smo se organizovali i borili,da im približimo herojstvo i ogromno žrtvovanje kako bi razumjeli šta znači boriti se za slobodu",rekao je Đokić.
Ratni komandant prnjavorske Brigade pukovnik Vlado Živković rekao je da je brigada prošla težak ratni put za stvaranje Srpske, te da se borila na 43 ratišta časno i pošteno.
"Kao komandant mogu reći da sam ponosan na svoje borce koji su i danas ostali disciplinovani,odgovorni i savjesni", rekao je Živković. video
Načelnik opštine Prnjavor Darko Tomaš podsjetio je da je sa područja ove lokalne zajednice u ratnim dejstvima poginulo 626 boraca, od kojih 216 iz prnjavorske Lake pješadijske brigade.
poginulo 626 boraca, od kojih 216 iz prnjavorske Lake pješadijske brigade
"Prnjavor je na braniku otadžbine od ukupne populacije dao 1,2 odsto stanovništva,po čemu smo druga opština u Republici Srpskoj,odmah iza opštine Ilijaš.Kolika je to žrtva govori i činjenica da u Prnjavoru nije bilo ratnih dejstava", naveo je Tomaš.
Prema podacima opštinske Boračke organizacije, kroz prnjavorsku Laku pješadijsku brigadu prošla su 4.063 borca, od kojih je 216 poginulo, a 27 boraca se još vodi kao nestalo.
Obilježavanju 20 godina od osnivanja prnjavorske brigade prisustvovali su i predsjednik Boračke organizacije RS Pantelija Ćurguz, kao i general Vojske RS Boško Kelečević. Telegram-čestitku uputio je predsjednik Narodne skupštine Republike Srpske Igor Radojičić.
26.5.2012
ОТВОРЕНА СПОМЕН СОБА ПОГИНУЛИМ ПРИПАДНИЦИМА ВРС

Предсједник Републике Српске Милорад Додик данас је, поводом обиљежавања Дана Војске РС, отворио спомен собу у бањалучкој касарни "Козара" у којој је уписано 22.447 имена погинулих и несталих припадника ВРС у протеклом одбрамбено-отаџбинском рату.
Додик је истакао да Република Српска не смије дати ниједан дио аутономије за причу о европским интеграцијама.
Министар рада и борачко-инвалидске заштите РС Петар Ђокић оцијенио је да су сви у Српској поносни што се обиљежава 20.година од оснивања ВРС.
"ВРС је дала највећи и најзначајнији допринос стварању РС . У тој борби је учествовало 210.000 бораца, који су поднијели огромне жртве за слободу српског народа", истакао је Ђокић.
Он је нагласио да је због тога потребно наставити са његовањем традиције херојске борбе српског народа.
"Све институције у РС требају наставити да воде рачуна о породицама погинулих, ратних војних инвалида и демобилисаних бораца јер су дали огроман допринос за стварање Српске", закључио је Ђокић.
Командант 3. пјешадијског пука ОС БиХ бригадир Рајко Кнежевић рекао је да су у спомен соби изложене ратне заставе ВРС.
"Пук има обавезу , али нам је велика част да његујемо традиције ВРС и српског народа. Циљ нам је да идентитет српског народа у Оружаним снагама БиХ буде препознатљив", истакао је Кнежевић.
Божана Радуловић из Бањалуке, мајка погинулог борца ВРС чије је име уписано у спомен соби, каже да јој је син погинуо прије 20 година на дервентском ратишту, да је био храбар борац и да никога није обрукао.
Централна свечаност обиљежавања Дана ВРС биће одржана сутра у касарни "Козара" у Бањалуци.
SRNA 12.05.2012.
ОБИЉЕЖАВАЊЕ ДАНА ОПШТИНЕ 24.03.2017.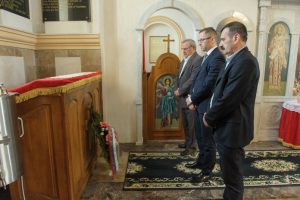 Парастосом и полагањем вијенаца у спомен-храму на Вучијаку код Прњавора, у знак сјећања на погинуле борце, 24.3.2017. је почело обиљежавање Дана општине. Начелник општине Прњавор Дарко Томаш истакао је да је ова општина поносна на своје борце и на оно што су учинили за локалну заједницу и Републику Српску, за будућност. "Данас је истовремено свечан и тужан дан за општину Прњавор, јер славимо Дан општине и сјећамо се наших 626 погинулих бораца који су живот дали за стварање Републике Српске", рекао је Томаш након парастоса и полагања вијенаца. Томаш је навео да се на данашњи дан могу сумирати и резултати који говоре у прилог развоју локалне заједнице. "Највећи развојни пројекат за наредних 50 година је изградња ауто-пута, а наши становници сигурно очекују нова радна мјеста и инфраструктурне пројекте. Ми смо у сарадњи са Владом Републике Српске спремни да одговоримо свим изазовима. Увјерен сам да оно најбоље тек предстоји", поручио је Томаш.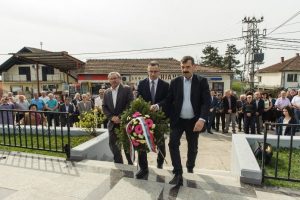 Помен је одржан и код спомен-обиљежја у Шибовској за 14 погинулих бораца са подручја села Шибовска, Доња Илова и Шерег Илова.
ТРАДИЦИОНАЛНО ДРУЖЕЊЕ НЕКАДАШЊИХ САБОРАЦА НА МОТАЈИЦИ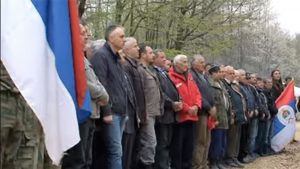 Традиционално дружење некадашњих сабораца из прњаворских бригада, припадника Војске Републике Српске, одржано је данас на локалитету Липе на Мотајици, као знак сјећања на 24. март 1992. године када је на овом мјесту Територијална одбрана зауставила продор непријатељских јединица према бањалучкој регији. Предсједник Борачке организације општине Прњавор Владо Живковић истакао је да су борца из прњаворског краја били припадници 124. ратне јединице и учествовали у највећим биткама за стварање Републике Српске.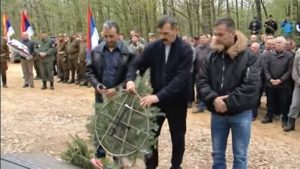 Живковић је напоменуо да су прњаворски борци учествовали у одбрани своје општине, затим у ослобађању Дервенте и Брода, пробоју Коридора, те на ратиштима у Брчком, Братунцу, на Озрену, у Добоју, Новом Граду, Теслићу и другим мјестима. "Наше је право било да штитимо и бранимо свој народ. На том путу погинуло је 626 бораца", нагласио је Живковић. Он је навео да је као један од ратних команданата поносан на све борце и старјешине са подручја општине, јер нико од њих није оптужен нити је одговарао за ратне злочине.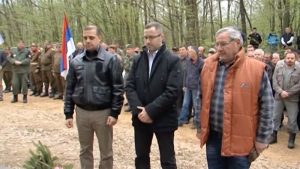 Дружењу некадашњих сабораца присуствовао је и начелник општине Прњавор Дарко Томаш који је истакао да погибија 626 бораца са подручја ове локалне заједнице говори о жртви коју је поднио Прњавор. "Због тога овај датум и све те људе никада не смијемо заборавити", рекао је Томаш и изразио увјерење да ће Борачка организација и наредних година наставити обиљежавати овај дан, уз пуну подршку локалне власти.
СРНА, Т.С. 26.3.2017
ПРИЈЕМ ЗА РОДИТЕЉЕ ПОГИНУЛИХ БОРАЦА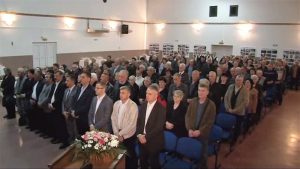 Представници локалне власти у Прњавору данас су, први пут послије 20 година, поводом Дана општине уприличили пријем за родитеље погинулих бораца са подручја ове локалне заједнице. Начелник општине Прњавор Дарко Томаш рекао је да ће у наредном периоду пријем бити уприличен за дјецу, супруге и остале чланове породица погинулих. Томаш је објаснио да им је намјера да разговарају о проблемима и како их могу ријешити. "Највећа замјерка коју смо чули је да их нико за протеклих 20 година није примио, обишао и ми желимо прекинути такву праксу", истакао је Томаш.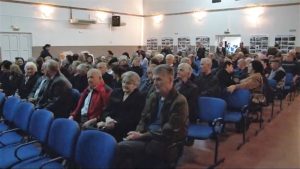 Он је најавио да ће од понедјељка издати упутство запосленима у Одјељењу за борачко-инвалидску заштиту да се више ангажују не само на пријему, већ и да редовно комуницирају са породицама погинулих. "Људи који раде у кабинету не могу се затворити у канцеларију и чекати да ли ће неко доћи, већ они морају ићи у сусрет проблемима и рјешавати их", поручио је Томаш. Предсједник Скупштине општине Жељко Симић подсјетио је на чињницу да је 626 бораца са подручја ове општине дало живот за стварање Републике Српске, те истакао да је обавеза сваке локалне власти да успостави контакт са њиховим породицама и на тај начин поручи да су уз њих.
"Као човјек дубоко сам увјерен да никакво материјално давање или ријеч утјехе не може умањити бол и тугу ових људи. Ипак, сигуран сам да овакав вид окупљања показује да нису сами, да нису заборављени. Данас смо добили доста добрих смјерница како у наредном периоду ријешити проблематику ових људи", рекао је Симић. Мајка погинулог борца Нада Јадић сматра данашњи пријем од великог значаја за породице које су у протеклом рату изгубиле најближе чланове. "Нема новца који може вратити моје дијете, али барем лијепа ријеч утјехе и пружена рука пријатељства за мене, као мајку, значи пуно. Лијепо је да су нас се сјетили и позвали", рекла је Јадићева. Пријему је присуствовала и Ружа Стојичић из Смртића, која је 1994. године изгубила сина на возућком ратишту. Према њеним ријечима, након овог трагичног губитка њихову породицу до данас нико из надлежних служби није посјетио. "Осим инвалиднине, никада ништа нисмо добили. Предавали смо и захтјев за неповратна средства јер смо градили кућу, али нисмо ништа добили, све смо морали радити властитим средствима", каже Стојчићева. Са подручја општине Прњавор погинуло је 626 бораца, а од њихових родитеља, на овом подручју живи 211 мајки и 103 оца погинулих бораца.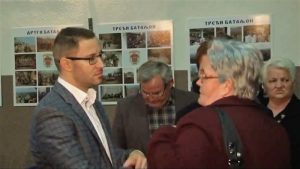 СРНА, Т.С.
27.3.2017.