I ove godine, 18. septembra, prošlo je 26 godina od početka rata na ovim prostorima.               Ovaj sajt rađen je povodom Dvadeset godina  od prve stvarne mobilizacije teritorijalne odbrane opštine Prnjavor i prve ratne upotrebe jedinica teritorijalne odbrane opštine.                                    Izvršena je ratna mobilizacija opštinskih ratnih jedinica po naređenju nadležnih organa čime je opština Prnjavor i sama učesnica odbrambeno-otadžbinskog  rata za stvaranje Republike Srpske.
Podaci o brigadi su manje više poznati javnosti, putem štampe, knjiga i saopštenja boračkih organizacija i udruženja.
Komandant prnjavorske brigade puk Vlado Živković, jedan od rijetkih komandanata u VRS od početka do kraja rata, od kapetana do potpukovnika, a nakom demobilizacije u činu pukovnika, više puta je iznosio podatke vezano za brojno stanje i ratni put lake pješadijske brigade Prnjavor.
OBILJEŽENE 22 GODINE OD ODBRANE ZAPADNIH GRANICA SRPSKE OD HRVATSKE AGRESIJE
U Novom Gradu 18.09.2017.godine u organizaciji Odbora Vlade Republike Srpske za njegovanje tradicije oslobodilačkih ratova, održana centralna manifestacija obilježavanja 22 godine od odbrane zapadnih granica Srpske od hrvatske agresije.
U okviru obilježavanja ovog datuma, svrstanog u one od velikog značaja za Republiku Srpsku, vijence su kod spomen-obilježja civilnim žrtvama rata u naselju Tunjica kod Novog Grada i kod spomen-obilježja poginulim borcima Vojske Republike Srpske u Novom Gradu.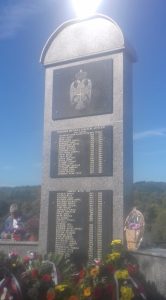 Na području zapadnokrajiških opština – Kozarske Dubice, Novog Grada i Kostajnice, 18. i 19. septembra 1995. godine, u hrvatskoj agresiji su ubijena 104 lica, od kojih 54 civila, 44 pripadnika oružanih snaga Republike Srpske i šest pripadnika Ministarstva unutrašnjih poslova Republike Srpske, a prema podacima opštinskih komisija o procjeni materijalne štete u Novom Gradu ona iznosi 83,3 miliona KM, u Kostajnici 40 miliona, a u Kozarskoj Dubici 50,4 miliona KM.(sajt opštine Novigrad)
Borbe oko Novog Grada spadaju u najznačajnije bitke i pobjede lpbr Prnjavor sa 6 poginulih boraca 2. i 3. bataljona, 28 ranjenih, 4 samoranjavanja i 8 oboljelih boraca.
U avgustu ove godine održano je prvo poslije ratno okupljanje pripadnika izviđačke jedinice, voda lake pješadijske brigade Prnjavor, odnosno pripadnika protivdiverzantskog voda TO u Grabik Ilova kod lovačke kuće. Brojno stanje PDV brojalo je 73 boraca, 10 poginulo, 13 RVI, 3 ranjena i 4 umrla poslije rata. Skoro svaki 7 je poginuo, a 5 ranjen. Prosjek starosti 26 godina. Brojno stanje izviđačkog voda 102 boraca. Poginulo 8, RVI 23, 10 ranjeno i 4 umrli poslije rata. Svaki 12 pripadnik jedinice je poginuo,  a skoro svaki 3 ranjen. Prosjek starosti pripadnika jedinice 23,5 godina.
U Čorlama, 13.05.2017. godine kod društvenog doma tradicionalno se okupila prva četa (potočanska) 2. odreda TO opštine, kasnije prve čete 2. pješadijskog batoljona lpbr Prnjavor.

U Gostoviću, opština Zavidovići 29.8.2017.godine na ruševinama manastira Udrum, postavljena je spomen ploča nestalim, zarobljenim i poginulim borcima VRS i civilima.

Od zarobljenih Prnjavorskih boraca, jedan je sahranjen a 4 se vode kao nestali.
U Prnjavoru, 14.09.2017. godine u crkvi Svetog Velikomučenika Georgija služen parastos i prislužene su svijeće za sve poginule i nestale sa područja opštine Prnjavor u proteklom otadžbinskom ratu povodom Dana nestalih i poginulih u Odbrambeno-otadžbinskom ratu Republike Srpske od strane Organizacije porodica zarobljenih i poginulih boraca i nestalih civila Prnjavor. Sa područja opštine traga se za još 34 nestala borca Vojske Republike Srpske.(Prnjavor.info).
Još se vodi 20 nestalih boraca Prnjavorske brigade.

knjige sa tematikom učešća opštine Prnjavor u minulom otadžbinskom ratu
Do sada je izašlo nekoliko knjiga sa tematikom učešća opštine Prnjavor u minulom otadžbinskom ratu , ratnih tekstova i novinskih reportaža u lokalnim novinama ("Naš zavičaj" Prnjavor; "Glas boraca" list Prnjavorske brigade),"Krajiški vojnik" list 1. KK, "Srpska Vojska", list VRS, te knjige g. Nedeljka Sančanina,
zatim Hronika Momčila Prodanovića: Selo Štrpci, Banja Luka 1999. godine i najnovija generala Novice Simića "Operacija Koridor 1992. godine"
U knjizi profesora Zdravka Nedovića: Prnjavor i njegova okolina, 1999. godine, dat je, po prvi put,  kratak prikaz odbrambeno – otadžbinskog rata u opštini Prnjavor i pregled poginulih boraca opštine Prnjavor.
Novosadski dokumentacioni centar "Polet pres" izdao je 2005. godine monografiju pod nazivom " Za krst časni i slobodu zlatnu"u kojoj se nalaze imena preko 620 poginulih boraca opštine Prnjavor u minulom odbrambeno-otadžbinskom ratu od oko 22477 imena poginulih boraca Vojske republike Srpske i 22 fotografije spomen-obilježja po mjesnim zajednicama opštine. Spiskove poginulih boraca izradila je Opštinska boračka organizacija Prnjavor, dok kratak uvodni prikaz ratnih događaja i fotografije svih spomen-obilježja je moj skromni doprinos monografiji. Spiskovi poginulih boraca uklesani su i u Spomen sobu svim poginulim borcima VRS u kasarni "Kozara" Banja luka
Prošlo je 20 godina od početka rata, a još uvijek su sveža sjećanja na te ratne godine i borce pripadnike opštinskih i drugih jedinica VRS koji su stvorili i odbranili Republiku Srpsku, kao i doprinos opštine Prnjavor ostvarenju tog cilja. Dokaz tome su i pripadnici Drugog bataljona prnjavorske Lake pješadijske brigade koji su organizovali 5.juna , na godišnjicu formiranja (10.6.92.), u Donjim Vijačanima, drugo poslijeratno druženje i evocirali ratne uspomene, jer su ponosni  na doprinos koji su dali u stvaranju Republike Srpske.
Sadržaj prikaza je kratki ratni put ratnih jedinca formiranih sa područja opštine Prnjavor, a naročito odred TO,  i koliko mi podaci istraživanjem dozvoljavaju ratnu jedinicu  "Vukovi sa Vučijaka" komandanta poručnika Veljke Milankovića i pripadnike 27.mtbr sa područja naše opštine.
Ratni put jedinica kratko sam prikazao  najznačajnije ratne događaje 1991-1992. koje sam obradio u knjizi profesora Zdravka Nedovića: Prnjavor i njegova okolina,1999. god.  str. 215-225, zatim ,objavljene  ratne štampe, ratnog dnevnika odreda, protokola i evidencije zdravstvenog stanja v/o, kao i vlastitih ratnih zabilješki kao komandir čete TO u odredu, a kasnije istraživanjem dostupne operativne i personalne evidencije jedinica iz vob-8a[1]. i bivšeg odsjeka MO RS i plana TO opštine . Zatim, i u postupku kategorizacije boraca podacima od Boračke oranizacije opštine Prnjavor,  brojnog stanja ratnih jedinica VRS popunjavanje sa pripadnicima sa područja opštine, uz statistički pristup kroz analizu podataka i upotrebu šema, grafikona i dijagrama. Grafički ratni put bi se prikazao metodom šema, grafikona, organizacija i formacija jedinica, njihova borbena sredstva i  prikazi stradanja boraca.
Od fotografija bi bili ratne fotografije pripadnika jedinica VRS,  spomen-obilježja odbrambeno-otadžbinskog rata Republike Srpske po mjesnim zajednicama opštine i ratne odluke po karti i prikazi tekstova u listu "Glas borca" Prnjavorske brigade,Krajiški vojnik, list 1.KK  i "Naš zavičaj" koji su izilazili u toku rata.
List "Glas borca" Prnjavorske brigade,
Nadam se da podaci objavljeni na ovoj stanici mogu poslužiti za dalju analizu i izučavanje doprinosa boraca prnjavorskih jedinica u odbrani teritorije i stvaraju Republike Srpske kao krajne cilju odbrambeno-otadžbinskog rata Republike Srpske.
Tomić Srđan,
Prnjavor, 13. oktobra  2011. godine
[1] Prema podacima nadležnog ministarstva u otadžbinskom ratu u RS učestvovalo je oko 215.670 ljudi (sajt VladeRS-MRBIZ od 07.03.2017. godine). Završetkom registra boraca proteklog odbrambeno-otadžbinskog rata RS, nadamo se,  omogući će  se pristup informacijama iz  knjige Vob_8, VP 7519 Prnjavor, 7127 Derventa i 8844 Banja Luka kod Odjeljenja za vojne evidencije Ministarstva rada i BIZ RS. Iz Informacije o ostvarivanju prava porodica poginulih i nestalih boraca, ratnih vojnih invalida, boraca i civilnih žrtava rata u opštini Prnjavor, koju je skupština opštine usvojila na 2. sjednici održanoj 15.12.2016. godine na području opštine evidentirano je 8477 lica učesnika otadžbinskog rata.
Obeleženo 25 godina od formiranja Vojske Republike Srpske, 220.000 ljudi su tokom rata prošli kroz Vojsku RS, a posebno  23.184 poginula pripadnika Vojske. (Blic, 13.maj 2017.)
Brojčano TO opštine (uključujući i odred TO u sastavu 329. okbr JA na ZSR), brojalo je oko 4000 boraca i činilo je oko 2 odsto Vojske Republike Srpske sa 215.671 boraca u momentu formiranja 12.05.1992. godine. Poginulo je 23.184 borca, odnosno 11% boraca VRS. (Podaci iz interviju ministra RBIZ RS, "Srpskom borcu", januar/jul 2017. godine).